June 22, 2006
David Shanet Clark

On Set of the Warner Bros. Film
WE ARE MARSHALL

"Hey Jack,
did you hear about the homeless baseball player?"

I was standing on the sidelines shouting over to Matthew McConaughey; he was on the football field dressed in a green and tan Marshall uniform as part of his Warner Brothers film role as 1971 Marshall University head coach Jack Lengyel.

Wearing my sideburns, green silk blazer and camera around my neck, I had already dialed my 200 mm zoom lens at "Jack Lengyel" for four full twelve-hour days as I portrayed a home field photographer on the sidelines of the Marshall vs. Xavier game played on September 25, 1971 at Fairfield Stadium.

"You told me last night, what was it again?" McConnaughey said, with the "Thundering Herd" Marshall home football scoreboard of Fairfield Stadium
(actually the Clark Atlanta / Morris Brown stadium) looming up behind him.

I had told him the baseball joke at the party the night before at the Club Cosmopolitan in Midtown Atlanta, where McConaughey had been the center of a swarm of people – I had introduced McConaughey to my old Huntington High School coach Reggie Oliver on the patio of the Cosmo at about ten p.m. the night before – and I had told him the joke while Reggie Oliver, Carla Oliver, Red Dawson, Mark Patton and Kevin Atkins jostled with us amid the flashbulbs at the wrap party.

"You know about the homeless baseball player . . . he was high and outside!"

Matthew McConaughey laughed and gave me "the look" – a warm, friendly, sly look; here was a major motion picture star the height of his career, and it was my job to help him recapture the atmosphere in Huntington, West Virginia in 1971 after the Marshall Plane Crash had claimed the lives of 75 people, back when Jack Lengyel (McConaughey) was hired to rebuild the missing football team with the help of assistant coach Red Dawson (Matthew Fox) and surviving veteran player Nate Ruffin (Anthony Mackie).

It is 1971 again and the Marshall Football team is at home against Xavier, the first home game in Huntington since the 1970 plane crash. The real Red Dawson, his son Bill Dawson, the screenwriter Jamie, the producer Jeanne and other celebrities are under the canopy behind me with Oscar nominee David Straithairn, the current Marshall President Dr. Kopp, along with January Jones, Reggie and Carla Oliver and former Marshall coaches; they are watching video monitors in the shade as the 35 mm tripod film cameras, steady cams and boom cameras prepare to film the end of the game once again. It is nearing one hundred degrees as we rush onto the field again with the cameras rolling.
That night (June 10) we continued the Fairfield Stadium home game shooting at Morris Brown in Atlanta. I eventually worked fifteen twelve-hour days over the four weeks, including the Morehead "night game" filmed at Tara Stadium in suburban Clayton County, Georgia. As a lifelong Marshall fan, Huntington South Side native and someone with theater, radio and acting experience now living in Atlanta, I was able to participate in the filming of Warner Brothers' movie "We are … Marshall" starring Matthew McConaughey, Matthew Fox, David Straithairn, Mark Alexander, January Jones, Kimberly Wells, Billy Bennett, Kevin Atkins and Anthony Mackie. I met and spoke with all of these people, along with Producer Basil Iwanyck, the Director McG, the Marshall Football coach Red Dawson and his son Bill Dawson, as well as Reggie Oliver, Carla Oliver, John (McConaughey's manager), Jamie the screenwriter and Jeanne the producer, Mark Patton, the kicker Billy Bennett, and I even talked to the real Jack Lengyel a couple of times while I was working on the set.

I was a featured cast extra assigned to prowl the sidelines of the Marshall-Xavier home game with a real 200 mm telephoto lens, and I stayed in character as a Marshall fan and photographer whenever we were on the football field, snapping Jack Lengyel (Matthew McConaughey), Red Dawson (Matthew Fox), the Marshall football team, the cheerleaders and the fans in the sun from dawn till dusk on the football field. As I grew more familiar with everyone and the home game field filming stretched into its seventh day, I felt like a member of the ensemble cast as Matthew Fox (playing my father's old friend Red Dawson) and David Straithairn (playing Marshall President Donald Dedmon) would approach me with questions about Huntington and Marshall.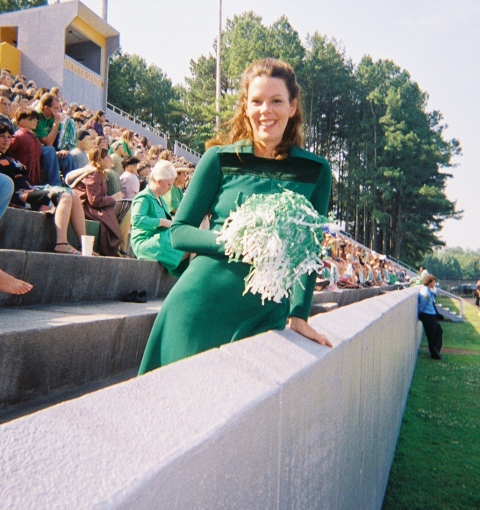 Marshall Fan
Dawn Luna

June 14, 2006
Atlanta
WARNER BROS.
WE ARE MARSHALL
Matthew McConaughey asked me "is there film in that camera?" and I had to tell him "no, it is only a prop, but you are in character and I am in character … I wish I did have prints of everything I have seen through this lens." McConaughey said that is the way he likes to work, he practices "method" acting (staying in character throughout the shooting of the film) and I was able to support his role by "dialing in" the telephoto, snapping the shutter and yelling "go get 'em, Jack" or "Go Jack Lengyel" or "big game today, Jack," as he proweled the sidelines. I got to be friends with the other photographers, the "Marco the Buffalo" mascots and some football players and coaches, as we spent long days together in the sun being moved around and coached by the director, the director's production assistants and the camera operators.

I usually stood between the players and the cheerleaders, or between the Marshall team on the sidelines and the line of scrimmage. I ran onto the field heading for the home tunnel with the mascot Marco the Buffalo (played on alternate days by my friends Jeremy and Dave), I ran onto the field at the halftime and end buzzers, I stood on-camera and took pictures of fumbles and passes, and I generally did the things a Marshall fan and field photographer would have done in reality. We spent a full day filming the "melee" where the fans run onto the field, and another full day and a half filming a 22-second series of two downs. Shane Hurlbut, the cinematographer on the film, told me at the final wrap (June 22, 2006) that over 950,000 feet of film had been shot, and so they will literally have a million feet of Kodak Panavision 35 mm film to edit after the ten-week shoot. A twelve-hour day typically yields only about two minutes of the final feature film, apparently.

I have talked to David Straithairn at length about Marshall University and Huntington, our conversations are about 'town and gown politics,' the Marshall NCAA violations and how previous Marshall University Presidents handled things like Allen Ginsberg, Dick Gregory and SDS when they appeared at Marshall in the late 1960s during the Vietnam War. As an Academy Award best actor nominee for "Good night and Good luck" David Strathairn managed to find time to talk to me on occasion about Marshall and Huntington as he prepared for his role as Marshall President Dedmon.

I was seated next to David Straithairn and Mark Alexander at the "Marshall v. Morehead game," an away game which Marshall lost at night on September 18, 1971. At that five-day filming I played a booster, a Marshall sports donor. I stood on the 50 yard-line in the front row and cheered for the Marshall team in my white Oxford shirt, a green silk blazer, a wide green tie with gold stripes, and I wore the propmaster's "period" glasses with chunky tortoise-shell rims during a close-up reaction shot when Nate Ruffin (Anthony Mackay) got injured. Mark, David and I were filmed reacting to the injury.

I talked to Mark and David that night about Mark's character, Ernie Salvatore, the sportswriter who originally chronicled the 1970 and 1971 events. "Ernie Salvatore gave me a copy of his book and he has really great style and great stories to tell." Mark said. I said, "when you are growing up you never think of people like Ernie Salvatore as a historical personality, but he really is." This surreal conversation with Mark Alexander and David Straithairn (on my first night on the set) took place at three a.m. in a light drizzle, under Kleig lights and surrounded by nearly five thousand inflatable dummies all wearing toupees, masks and sweaters. To make matters even stranger, there was a giant camera suspended on a fifty foot boom hanging there in our faces as we talked about Ernie Salvatore and Huntington. And to top it off, giant fuzzy microphones picked up our words for McG and the sound engineers to listen to as I talked to "Ernie Salvatore" about Ernie Salvatore, and asked David and Mark what they thought of Huntington.

Everyone on the set that I talked to had apparently really enjoyed their month in the city of Huntington, and David Straithairn had especially enjoyed "Jim's Spaghetti House," he also mentioned an independent coffee shop near the Keith Albee theater that he liked. Mark Patton confirmed that the film crew enjoyed their time in Huntington when I talked with him on the sidelines after being in a filmed football scene (a sidelines pass reception) together. Because of my role as a photographer on the sidelines, I had the chance to talk to Matthew Fox (in the shade by the stadium wall) about the complex emotions people had in Huntington in 1971. "It is hard to capture the emotions of the Xavier home game, because the typical football emotions are combined with the grief," Matthew Fox said, with his hair dyed red and wearing the green Marshall polo shirt and tan stretch pants of his coaching uniform, "and that is what I am trying to portray as well as I can."

I replied "you can probably do it as well as anyone, and that is why I tell you things -- like the fact that I cried my eyes out while driving in to the set this morning." He thanked me and we went back to work with the cameras rolling, as I stood 'photographing' the poignant post-game embrace on the field between Red Dawson (Matthew Fox) and Carol Dawson (January Jones). I summed up the plane crash situation as it impacted my life: "My parents lost their friends and my friends lost their parents." I ended up using this phrase frequently when talking with the cast and crew about my memories of the early 1970s. Unlike the Huntington filming, only a minority of the Atlanta cast extras had any real connection to Marshall or Huntington, but many were curious about the tragedy and its aftermath.

The real Red Dawson popped up near us on the sidelines with Jack Lengyel and I shouted "Go Red Dawson! Go Jack Lengyel!" as the cameras and sound were rolling. Red Dawson smiled benevolently. The assistant director, Rich, yelled "Cut" through his megaphone. McG walked by and asked me "is there film in that camera?" I must have been pretty convincing in my role.

"No, it is just a prop," I showed the stills photographer, the property master and the Director the empty guts of the camera, "see, no film, just make-believe."

"Well stand over there, there is thing we are going to use you in, but only if we have time and can get it together." McG resembles a hip General Douglas MacArthur, with his tortoise shell sunglasses and ever present Marshall green and white ball cap. Indefatiguable, McG presses the cast and crew to perform about twelve hours a day or more during the ten-week shoot on location in Huntington and Atlanta, and he is a good manager of people, an ambitious and talented director.

I walked into the inner sanctum where McG, the assistant director, the producers and the camera people were working. Although the montage "photographer with the Marshall coaches" shot that they wanted wasn't filmed, I became a featured extra and cast member at that point, as I stood on field with McG, using my camera zoom lens for fun and verisimilitude. "This is going to be the best football movie ever." I thought to myself as "Jack Lengyel" (McConaughey) shouted "Put in the kicking team, Dawson!"

"Throw the ball, Jack! Let Red and Reggie throw the pass! Go Herd! Go Reggie!" The line referee with his chains ran by and Marco the Buffalo pounded me on the shoulders. We got back into place to film the shot again, in slow motion at 96 frames per second……then again at six frames a second (for stroboscopic effect).

I told McG at the wrap party, "I talked to Jack Lengyel today, and I had forgotten what a buoyant and optimistic person he was." McG said that Lengyel's buoyant optimism was a big part of the movie. All of us that were on the movie set in Atlanta knew that Matthew McConnaughey will bring an intensity and liveliness to this film that will help us come to terms with our grief over the tragedy of November 1970. I saw Jamie the screenwriter walking on the sidelines and said "Oscar Buzz" to him conspiratorially -- but Jamie begged off humbly, "too soon, too soon." Jamie got the story originally from Bill Dawson, Red Dawson's son, and Jamie did a masterful job researching and dramatizing the events of 1970 and 1971 in his screenplay. McG and McConnaughey spend a good bit of their time conferring with Jamie, who is only twenty-eight years old, he resembles a college newspaper reporter visiting the set. Another great character I met on the field was the Georgia Bulldogs' kicker Billy Bennett, who plays Marshall's 1971 kicker. Billy Bennett is a sound engineer in Athens, Ga., and we had a number of friends in common, so I enjoyed talking to Billy at the stadium.

Sadly, on June 21 we finally wrapped principal location filming, when most of the stars had already been gone for a week or so. I went to the final wrap party at Baraonda and Bazaar in the Fox Theater District of Peachtree St. The cast and crew had been staying at the Georgian Hotel and they had been eating regularly at one of my favorite restaurants, Baraonda, near the Fox Theater. As we wrapped the final day, one of my contacts in the casting office tipped me off to location of the final cast and crew wrap party. Anthony Mackie bought me a Heineken and told me he was a Juilliard graduate. I told him that I had a Masters in Education and was Summa Cum Laude in History. It also appears that Matthew Fox was a top student at Columbia University. We toasted the wrapping up of the ten week shooting. I spoke with Jeanne, McG's producing partner, and Mark Ellis of Reelsports.com, our technical adviser for football. Shane confirmed the figure of 950,000 feet of film and Jeanne the producer told me "you are in the movie, you are in a lot of the dailies….."

The castmembers from Huntington that I was in contact with were Kevin Atkins, Mike Moretti, Tom Russell, Shawn Reynolds, Garrett Moore, Mark Patton, Mike Woefel, David Hunter, Dave Walsh and John Messinger, and this group, (most of them originally from Huntington) worked the entire Atlanta shoot. We formed a strong bond. I feel very fortunate to have been a part of the project, and to have worked with such wonderful people on such a historically accurate, poignant and life-affirming film. This was a peak life experience for me, and I cannot wait to see the finished film in the theater.

By David Shanet Clark.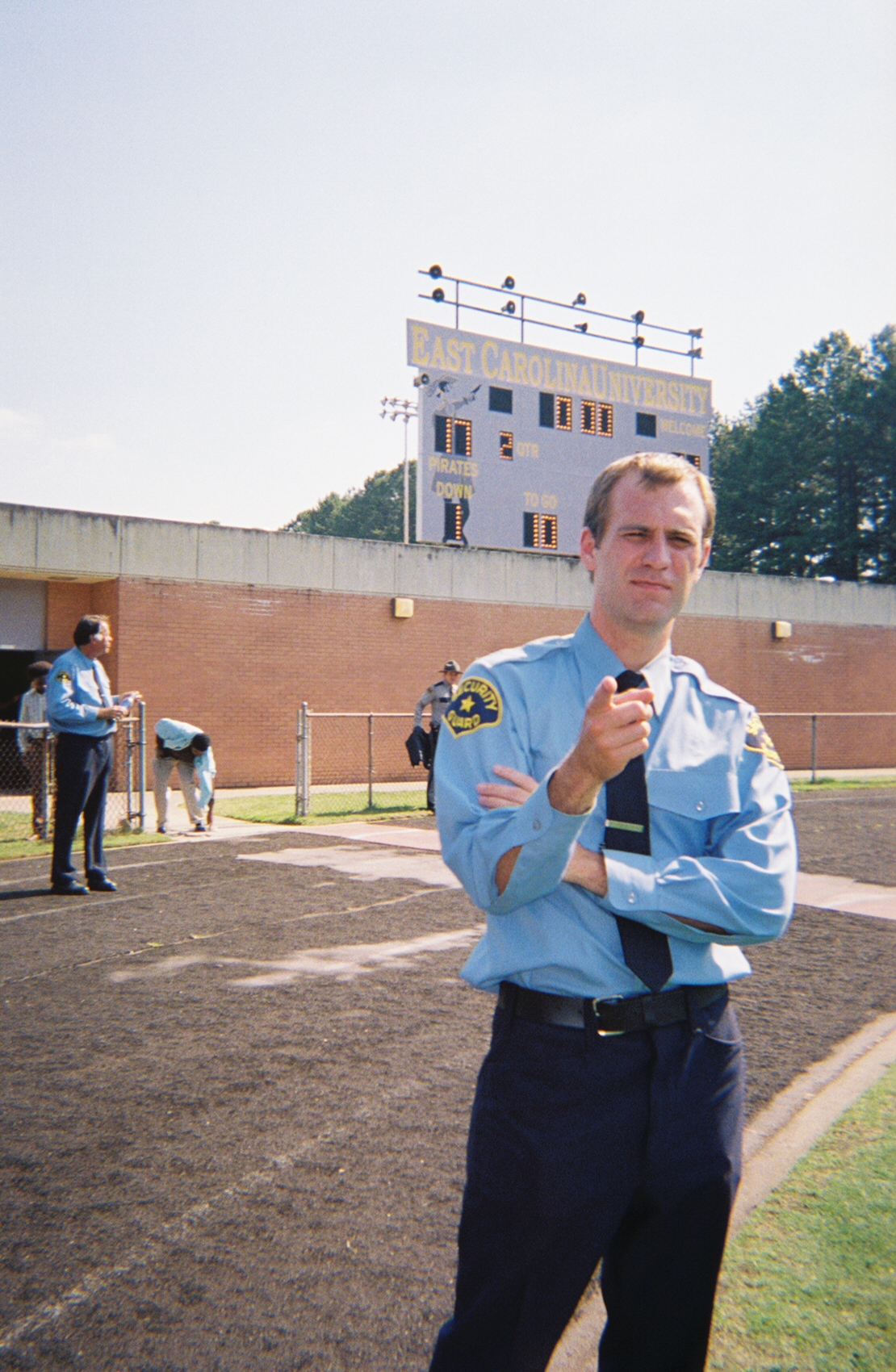 Garrett Moore
June 14, 2006
Dekalb College, Ga.
WARNER BROS.
WE ARE MARSHALL